February 25, 2016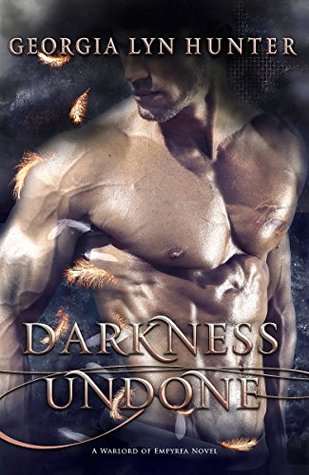 Darkness Undone, Warlords of Empyrea #1, by Georgia Lyn Hunter - 2/16/16
Amazon: http://amzn.to/1oDyyIX
iBooks: http://apple.co/1Svd5ic
Nook: http://bit.ly/1SKs8Ti
Kobo: http://bit.ly/1Ks6IJi
Smash: http://bit.ly/23KTJsZ
A fading realm, a warrior bound, and the woman who will save them both…
Bound to a vengeful goddess, immortal warrior, Reynner, has little time for the fairer sex. The last thing he wants is to be aligned with another female, even if she is the key to finding an artifact and saving his realm. But his stone-cold resistance is tested, his attraction undeniable for the feisty mortal, until she demands the one thing he cannot give her…his trust.
Eve Leighton keeps away from intimacy of any sort after an accident in her teens left her with a painful ability to see into another's mind through physical contact. When an ice-cold warrior claims she is his world's savior, she's intrigued, until she dares a look into his soul and sees a man who's been cruelly betrayed. She agrees to help him and loses her heart. But the man is an unassailable fortress. With quiet determination, she chips away his barriers and a passion darker than night pulls them under.
As his enemies close in on the hunt for the artifact, Reynner must overcome his own personal demons as battles are fought to claim the woman he loves or lose her forever. And Eve has to face her own mortality and fight for a love of a lifetime.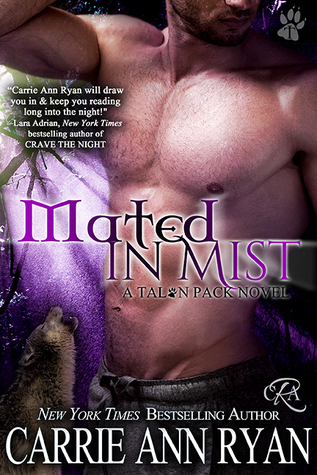 Mated in Mist, Talon Pack #3, by Carrie Ann Ryan - 2/16/16.
Amazon: http://amzn.to/1SQsF8e
iBooks http://apple.co/1O9k3FW
Barnes & Noble http://bit.ly/1UddRlg
Kobo http://bit.ly/1flFwgT
Google Play http://bit.ly/1VVNezB
ARe http://bit.ly/1QTbn8G
The Talon Pack continues with an outcast witch and a wolf who can see past the darkness.
As Heir to the Talon Pack, Ryder Brentwood carries the responsibility of not only protecting his Pack, but ensuring its future. Only no one knows that as he does this, he must also shield his people from their past. When a witch with no ties bursts into his life, he must decide if he can overcome the depravity of his secrets and trust the one person who could break the fragile hold on his control.
Grieving over the loss of her twin and on the run from the unknown, Leah Helm knows she is far more alone than she thought possible. Her coven shunned her before she was born and the wolves she sought protection with are in a war of their own. When a wolf with a whisper of secrets is forced to work with her in order to protect their people, she finds she might not be so alone after all.
The world knows more than they ever have before about those shrouded in darkness, while Ryder and Leah are thrust into the center of a conflict they never should have been part of to begin with. On their journey they must not only fight those against them, but the burning temptation that is flaring between them. Fate might have paved their path, but that doesn't mean they have to follow.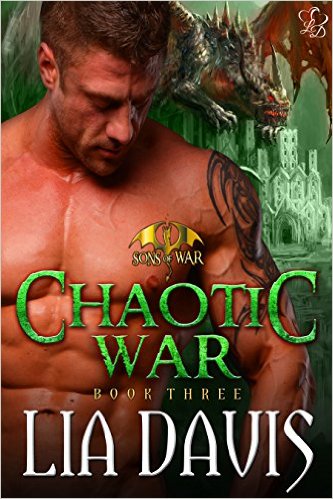 Chaotic War, Sons of War #3, by Lia Davis - 2/23/16
Amazon: http://amzn.to/1SN3NxL
B&N: http://bit.ly/219rZ2a
iBooks: http://apple.co/1QbiU2n
Kobo: http://bit.ly/1SkZqcJ
ARe: http://bit.ly/1RUKIIa
While Zavier Sullivan may be the calm, reserved brother, his dragon is not. Especially since the beautiful, unorganized demi-goddess, Danielle Roberts—a.k.a Elle—moved into the mansion and into his life. She disturbs his OCD and makes him yearn for things he shouldn't, but he can't stay away from her. Nor can he deny her anything. Including his blood.
Ever since arriving at the home of the Sons of War, Elle has been plagued with dreams of the past and future. The visions are taking a toll, causing her debilitating headaches and ruining her sleep, but she doesn't know what it all means. Her mother, Nyx, the Goddess of Night, has never bothered to show up and explain things to her. Until she arrives and unlocks Elle's powers, promptly transforming her into a half-daimon, half-goddess. Now, Zavier may be her only hope of holding onto her humanity, but can she bond with him after everything she's seen? Especially in the midst of everything the Sons and their mates are going through.
Posted by Literal Addiction.